Reliable Resource for a Dumpster Rental Moscow PA
Homeowners and businesses can get rid of the waste without looking any further. For the ultimate dumpster rental Moscow PA, AP Containers has you covered. We offer the easiest way to rent a dumpster in Moscow, Pennsylvania for a job of any size. No job is ever too big or small for our sturdy Moscow dumpsters. You've probably even seen our dumpsters in Moscow PA around town on lawns, in parking lots, and next to your favorite businesses. Your neighbors already trust us when they want reliable trash and debris removal. It's your turn to discover how working with the right company makes light work of removing trash and debris from your property.

AP Containers has been the dumpster rental Moscow PA customers have chosen for years because we offer the reliability and honesty you're looking for when seeking the easiest way to haul waste in Moscow. We know that every job is unique which is why we'll take time to work with you to ensure that you're getting a dumpster that's the right size for the job for a duration that's realistic for your project scope. When you're ready to rent a dumpster Moscow, PA, give us a call.

When you're working on a big construction project or cleanup job, the last thing you want to do is sink hours into searching for someone who provides demolition dumpsters Moscow PA for the best price with the best service. The AP Containers team is ready to make the dumpster rental Moscow PA process as easy as possible for you by allowing you to book your dumpster rental online. There's simply no easier way to find dumpsters for rent Moscow PA.
Rent a Dumpster Moscow PA for All Kinds of Projects and Jobs
Our roll off containers are used for a variety of residential, commercial, or construction projects. When you rent a dumpster Moscow PA, you can have the bin delivered directly to your doorstep, making the process downright breezy. We offer perfect dumpsters for all types of projects. Rest assured that we have you covered for everything from cleaning out an estate to clearing away debris following a major home renovation.

When you rent a dumpster Moscow PA with us, you're not just getting a company capable of dropping off a dumpster at your property. You're working with trash disposal experts capable of ensuring that your discarded items are handled impeccably. We work closely with Keystone Sanitary Landfill when discarding materials collected in our rental dumpsters to ensure that we're complying with all local, state, and federal laws.

We know you're concerned that some dumpster Moscow PA companies might not have the experience to help you legally dispose of the materials you're getting rid of. When you work with a Moscow dumpster rental Moscow, PA, you get the peace of mind of knowing that we ethically and responsibly dispose of all materials. Our team will also inform you of any prohibited items that cannot be placed in a rental dumpster to ensure that you're able to make proper alternative arrangements.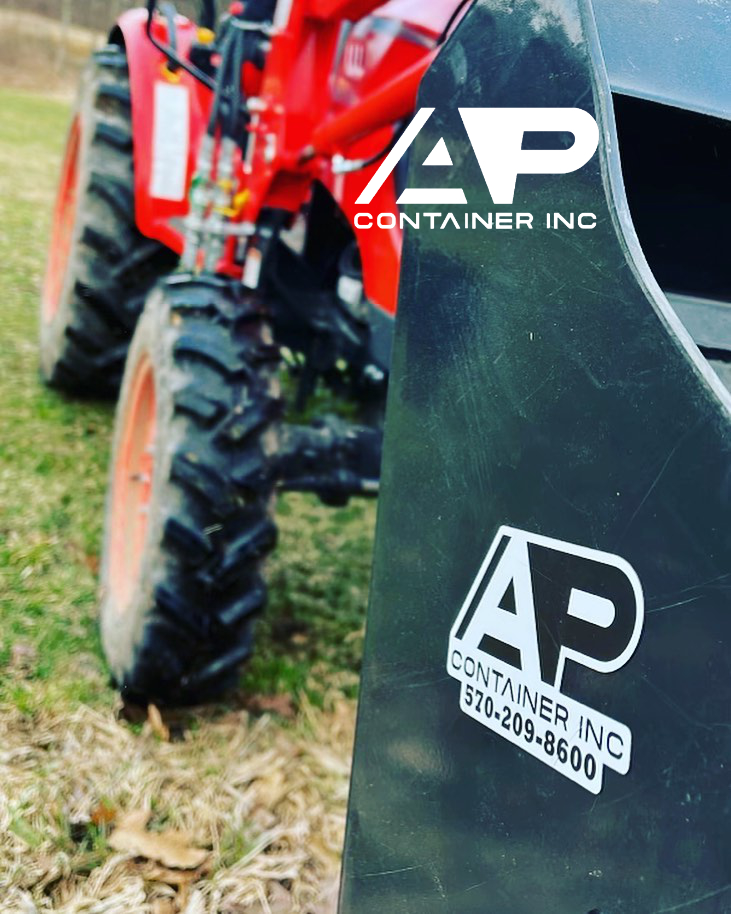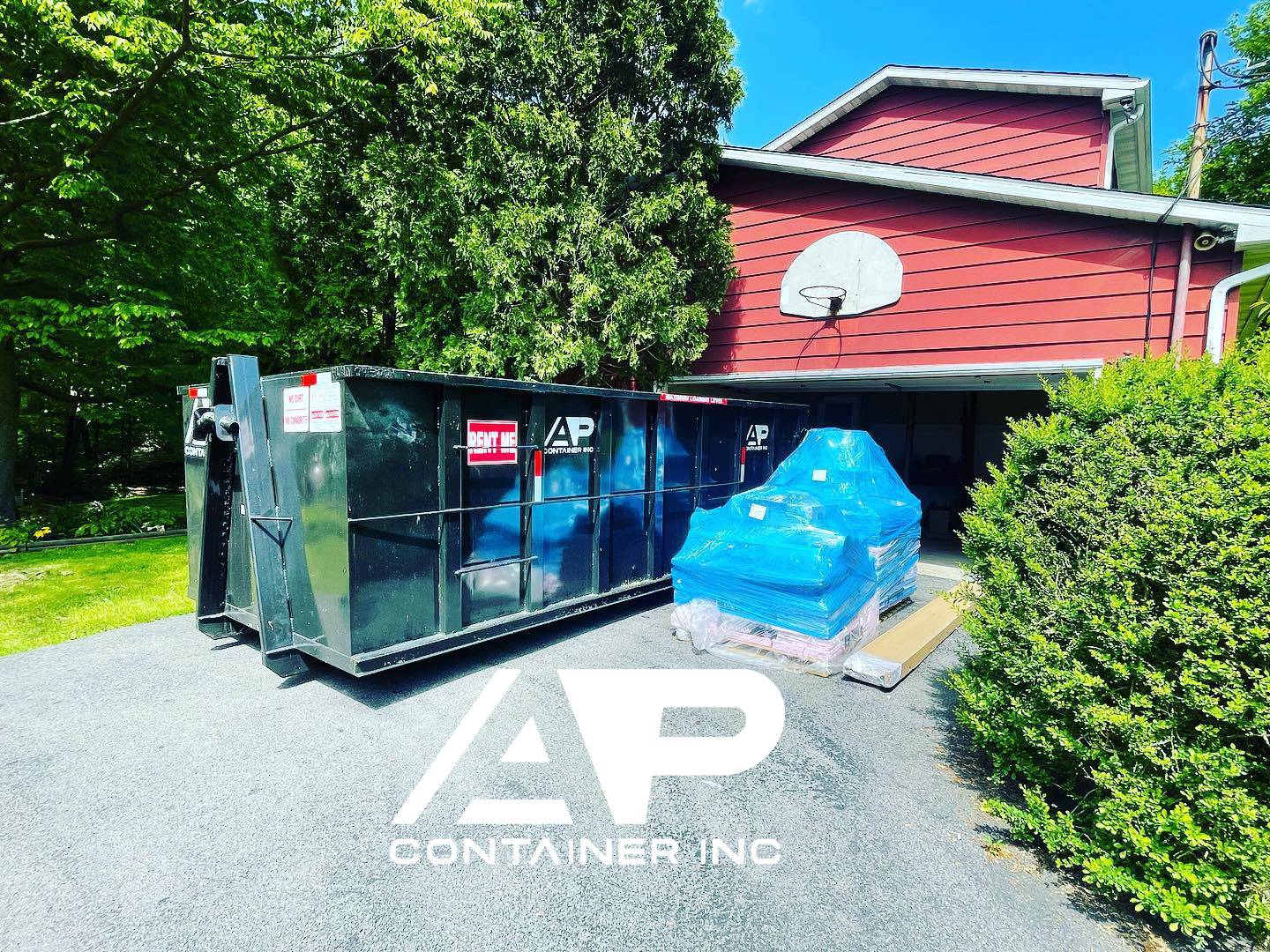 Moscow Dumpster Rental for Residential Projects
Introducing the easiest way to get your attic or basement cleaned out in Moscow! We're excited to offer Moscow homeowners a completely hassle-free way to get rid of junk and debris using our ultra-convenient Moscow dumpster rental services.

AP Containers has already helped countless local residents find solutions for being able to clear out furniture, appliances, old toys, broken cabinets, outdated decking, unusable fixtures, shed materials, debris from renovation projects, and much more. We know how overwhelming it can be to put all of the pieces together when you're trying to get a big project done at your house. That's why we make it easy for you pick a dumpster rentals Moscow PA online in minutes to get exactly what you need from a Moscow dumpster rental without paying a cent more than necessary.
Sturdy Roll Off Dumpsters Moscow for Yard Waste
Cleaning up and clearing out your yard has never been this simple. A pristine yard starts with roll off dumpsters Moscow that homeowners can book online! At AP Containers, we know that having a way to discard debris is one of the biggest obstacles to finally getting that big landscaping or cleaning project done at your property. Branches, brush, leaves, and debris don't have to make you feel like your yard is an embarrassment. Your garden shed doesn't have to stay packed to the brim with old tools and equipment just because you don't want to make a dozen trips to the dump.

Our roll off dumpsters Moscow customers can book online for ambitious yard projects of all sizes let you use a centralized dumping spot in your yard for the most efficient way to clear your property of debris and junk! We are the yard waste haul masters dumpster rental Moscow PA, so choose our team when getting started on your landscaping projects.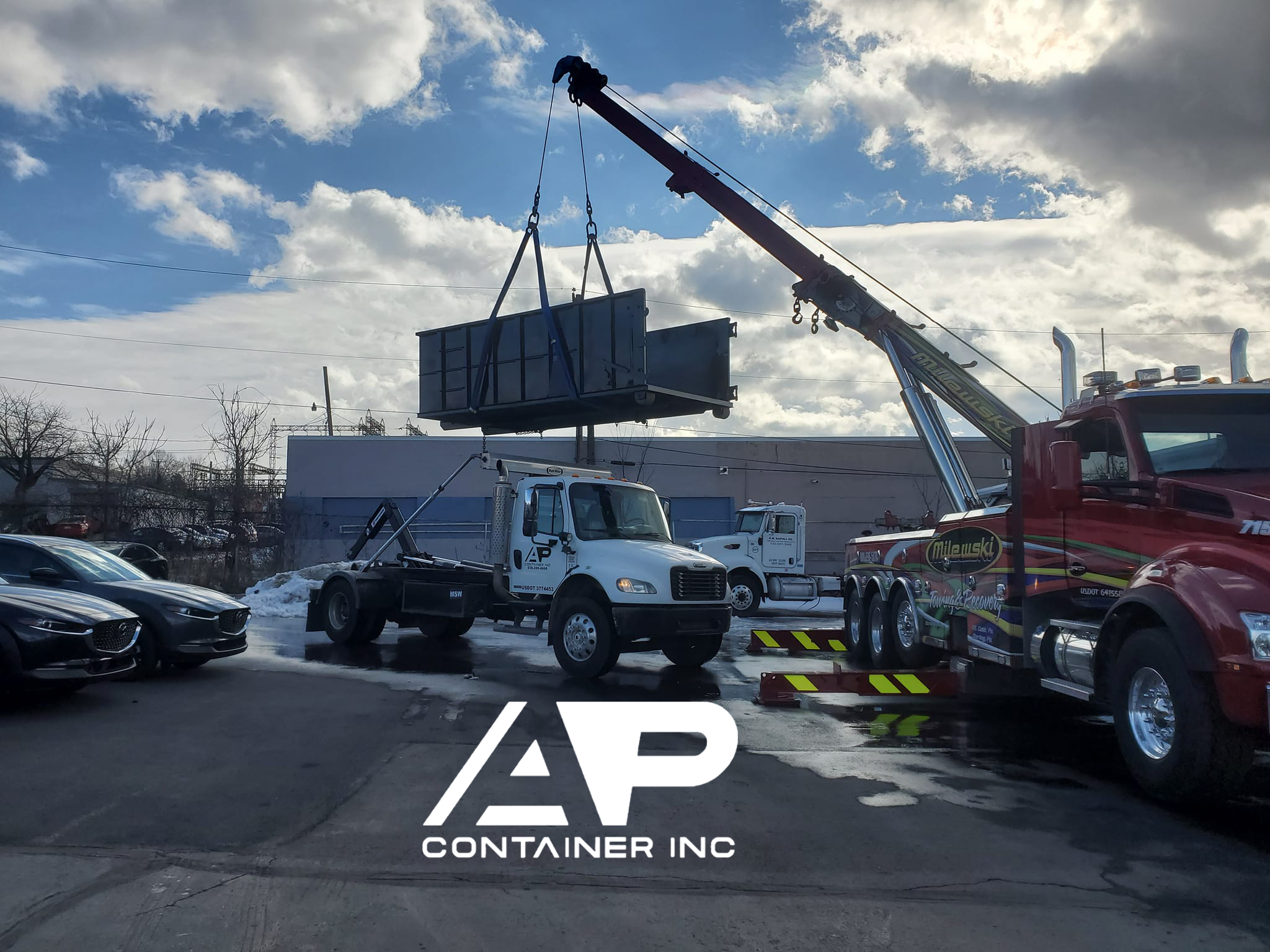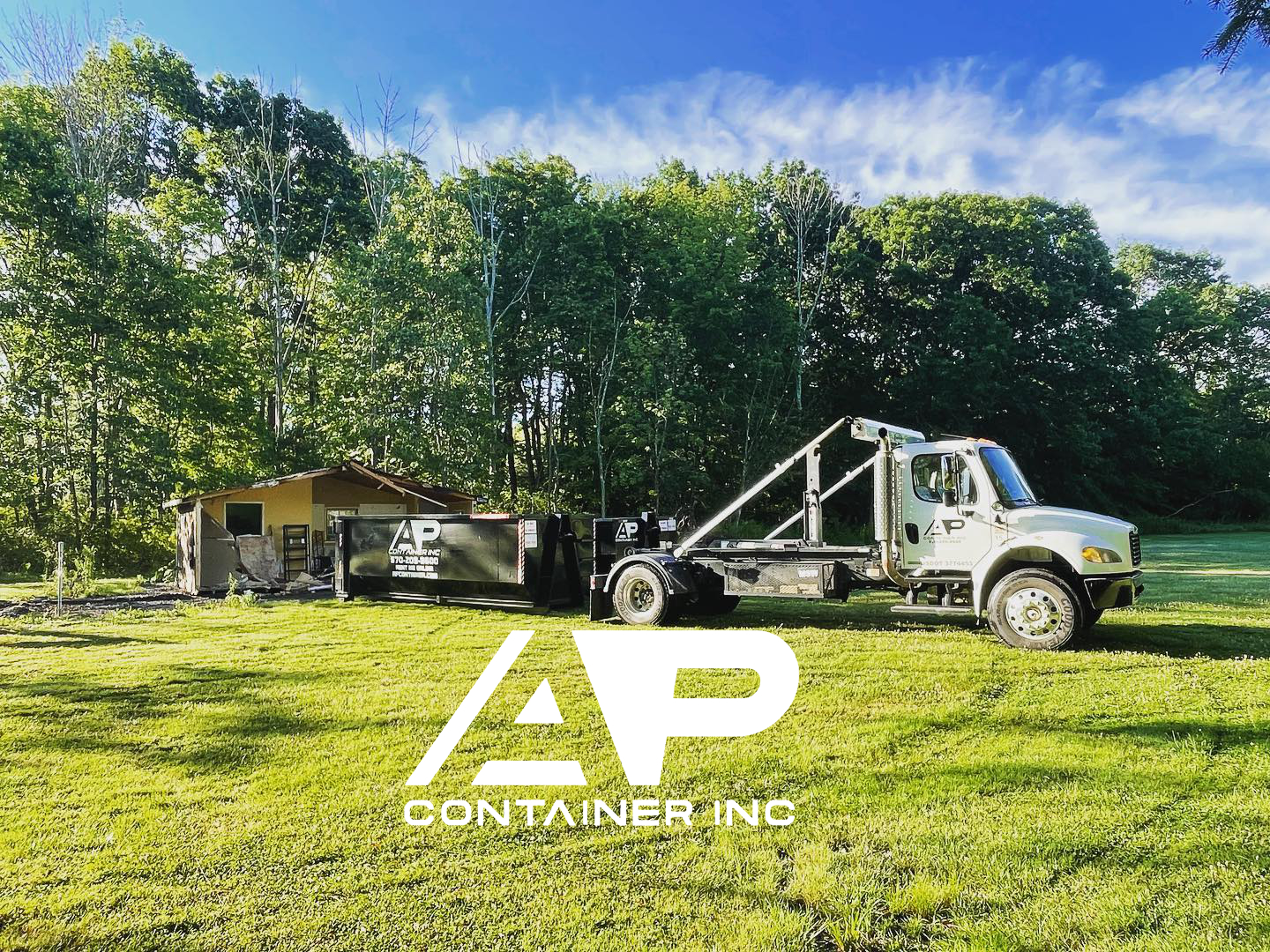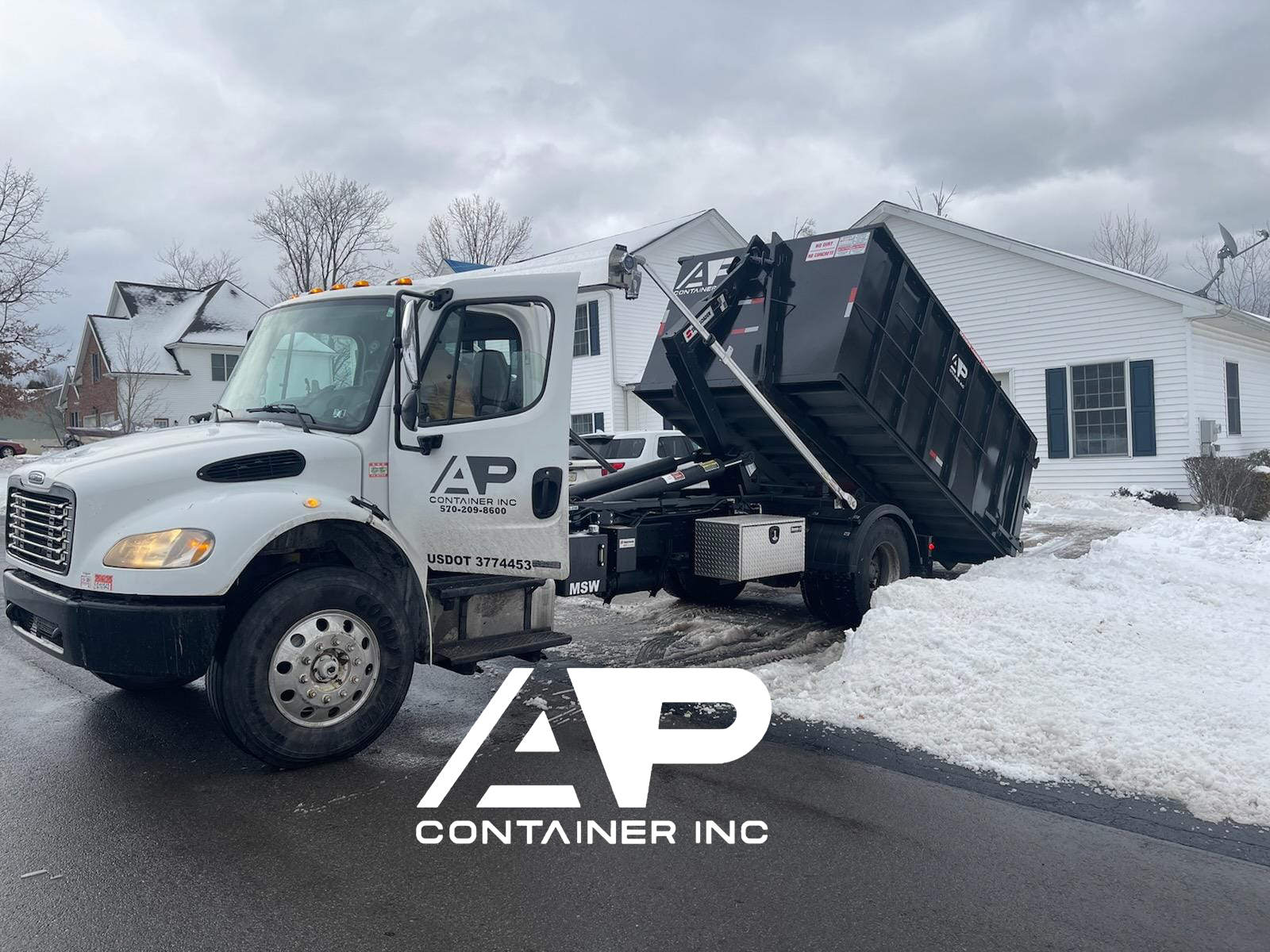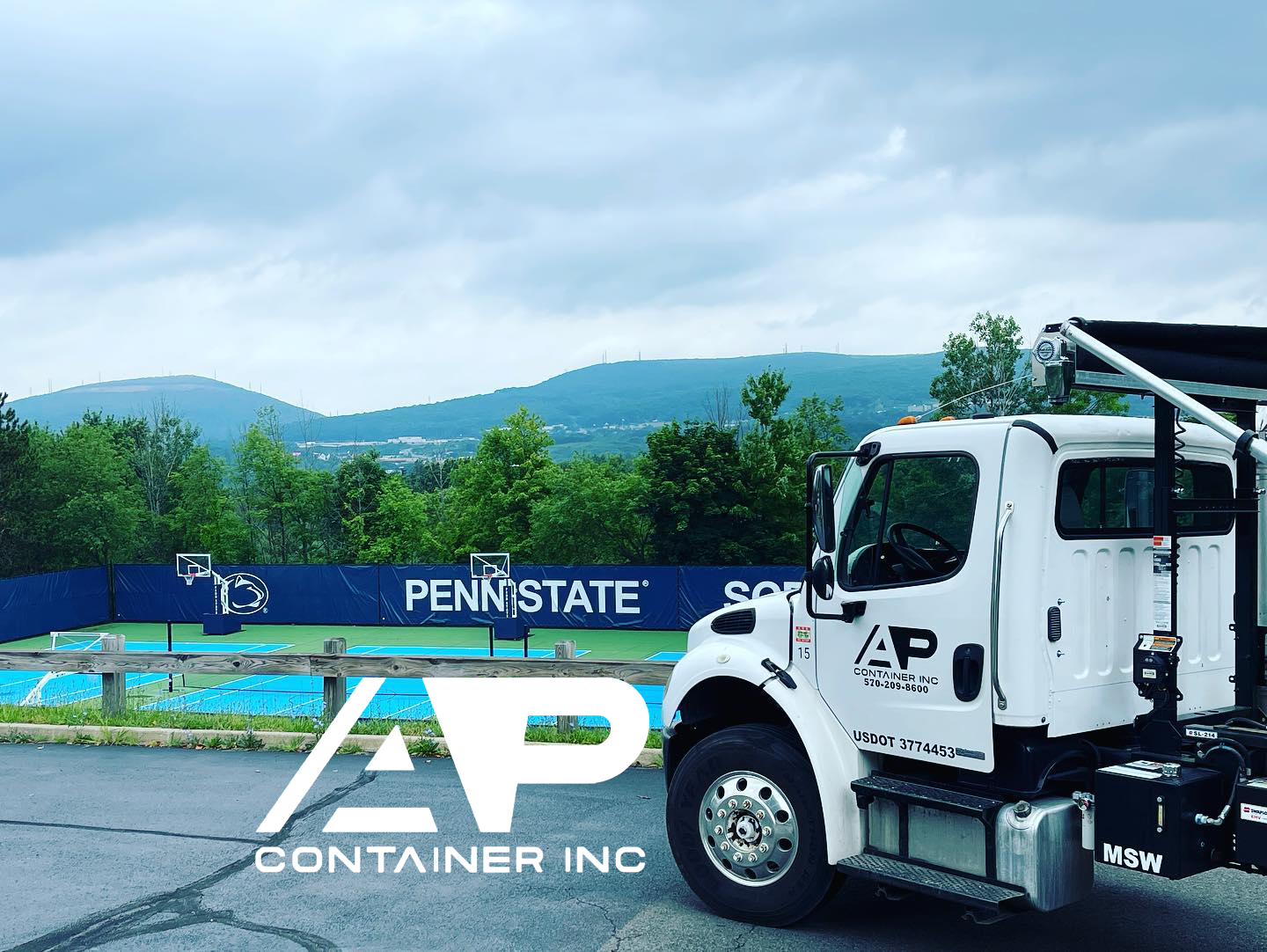 Mobile Dumpster Service Moscow PA for Construction Use
Our new mobile booking system allows contractors and homeowners alike to schedule with a touch of a button. Keep the pace going with a mobile dumpster service Moscow PA builders and homeowners can use to prevent the stop-and-start problem of having to get to the dump on someone else's schedule. We're thrilled to be able to offer you a variety of sizes that are ideal for residential and construction projects of all sizes.

Every contractor knows how important it is to partner with Moscow roll off dumpster companies that value transparency and efficiency. We can help you size out your rental to ensure that you're getting the right size based on the materials you're working with. It's really as simple as filling your dumpster before our mobile dumpster service Moscow PA comes along to take the problem off your hands.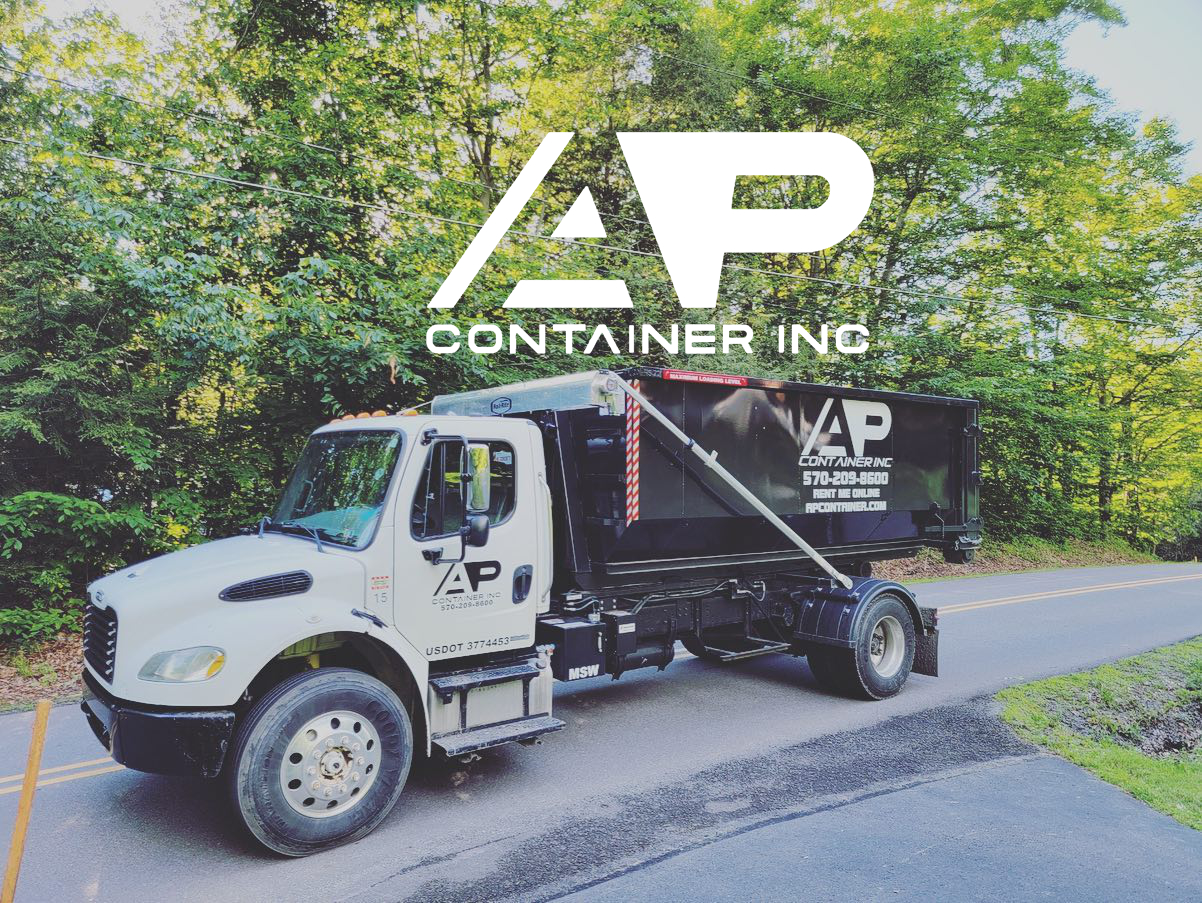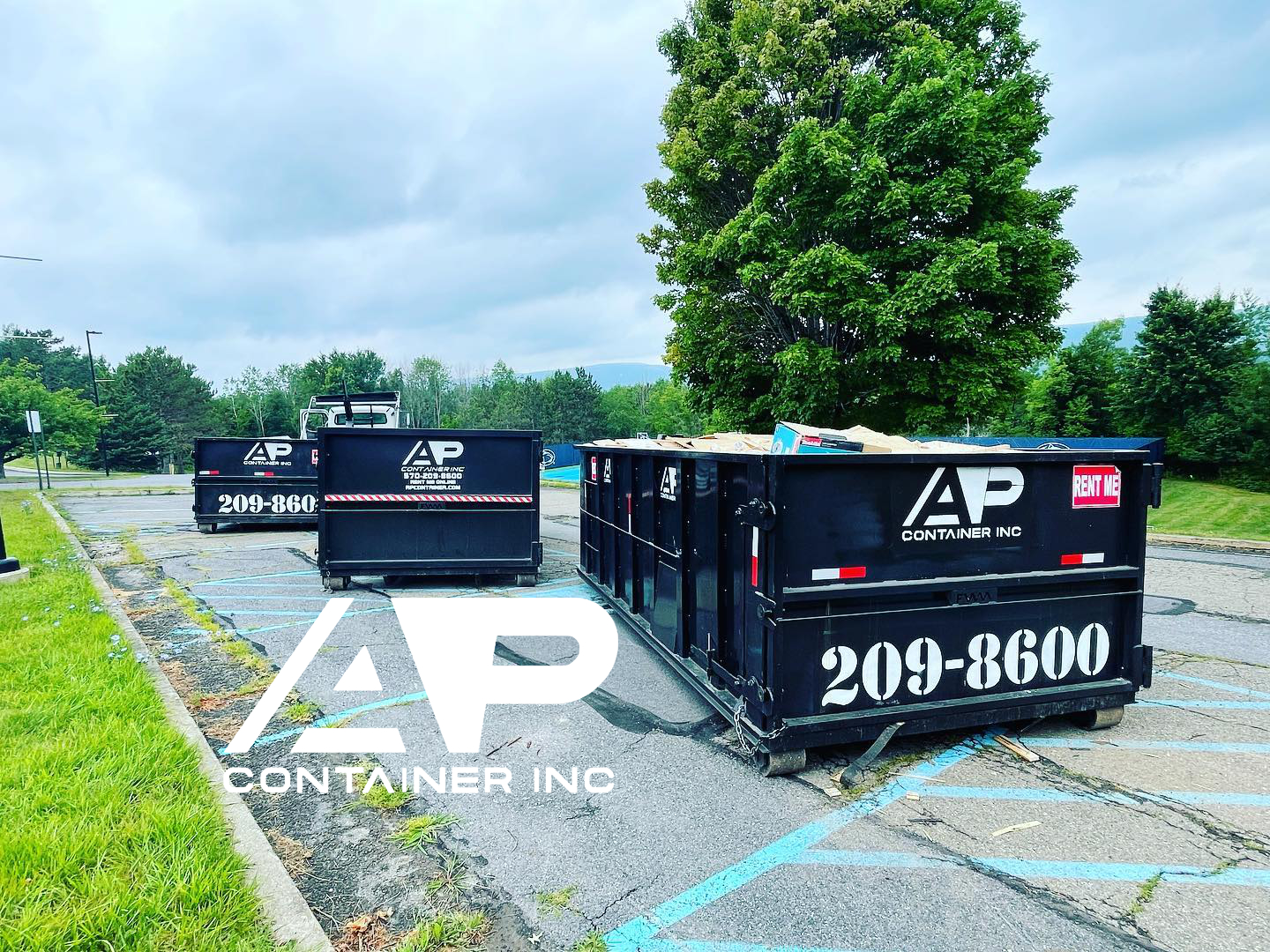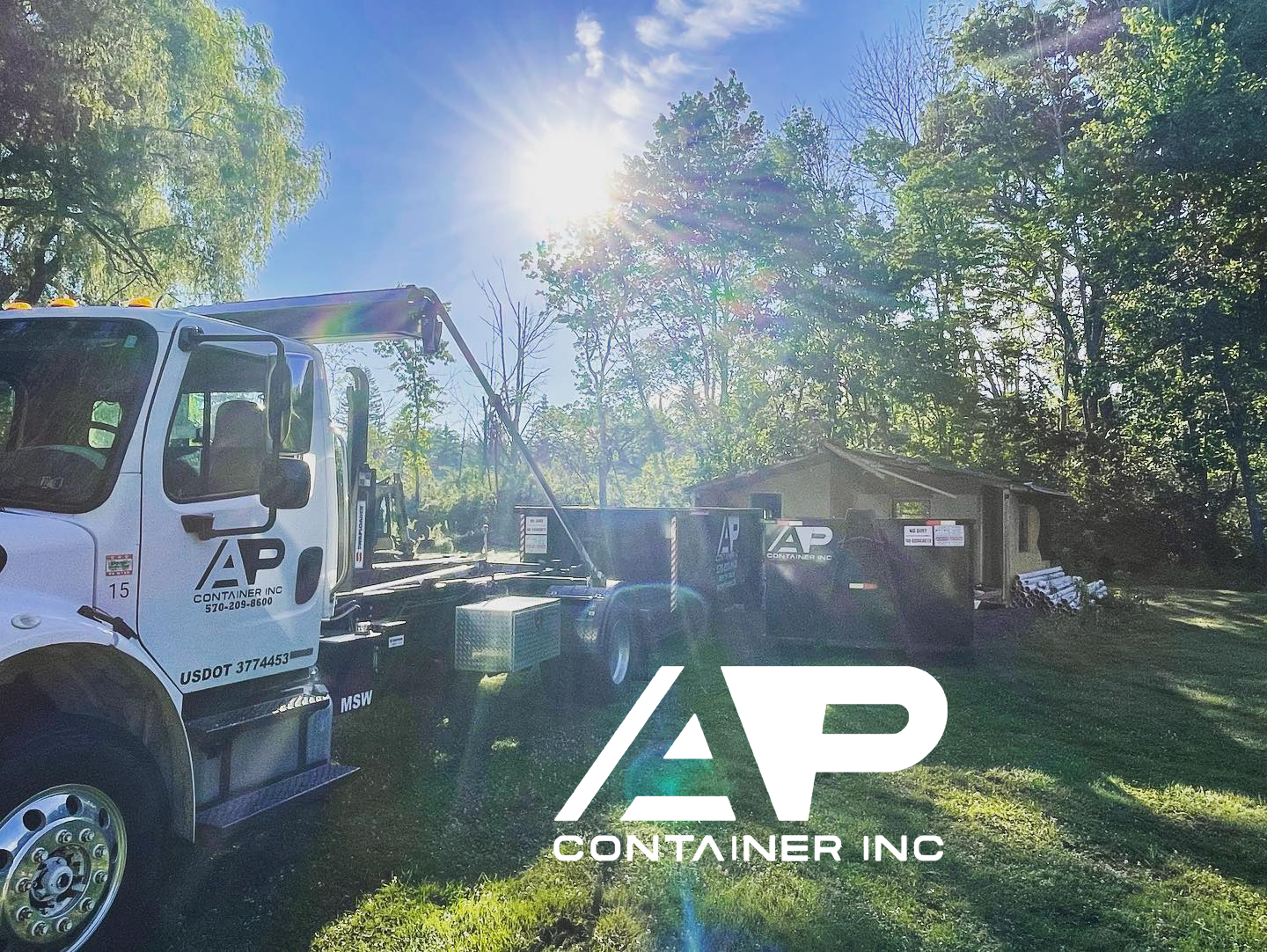 Roofing Material Roll Off Dumpster Rental Moscow
Roofing materials can be cumbersome and heavy, so it's always best to work with a trusted, reliable dumpster rental company for your roofing needs. Trusting just any company for a roll off dumpster rental Moscow is never a good idea. When you get your rental with the team here at AP Containers, we'll make the process smooth from start to finish. You can have confidence in our service because we are seasoned debris containment experts.

We know that deadlines matter when you need to clear out a job site and have the waste hauled away. That's why our team will spring into action with your roll off dumpster rental Moscow to ensure that you stick to your schedule and budget. Our flawless delivery system ensures that your dumpster shows up where and when it needs to. If you have any questions about how to rent dumpster Moscow for your roofing needs, contact our team at (570) 209-8600.
We Take Just About Everything
Some examples of the junk we haul away include
Refrigerator Disposal

Garbage Removal

Mattress Disposal

Foreclosure Clean Outs
Construction Waste Removal

Yard Waste Removal

Trash Removal

Appliance Removal
Television Disposal & Recycling

Furniture Removal

E-Waste Disposal

Hot Tub Disposal
Moscow Dumpster for Commercial Projects
When businesses need a Moscow dumpster from the most trusted name around, they turn to AP Containers. If you're wondering where can I rent a dumpster in Moscow Pennsylvania for my commercial needs, look no further. We have the selection to accommodate any commercial or industrial dumpster needs you might have. We'll also ensure that you're getting your dumpster exactly when you need it in the location most convenient for your business.

Consider us your Moscow dumpster partners for getting your project completed on time, on budget, and without hassles. Our team can set you up with a one-time, ongoing, short-term, long-term, or any other bin rental need you might have. We're a local business that caters to the needs of other local businesses because we know that flexibility is essential when you're working hard to please your own clients. Discuss the possibilities with us today by giving us a call at (570) 209-8600 or book your container online!

Demolition Dumpsters Moscow PA
Demolition projects are no small feat, which is why our dumpsters Moscow PA are used by contractors, builders, or homeowners for their ongoing or short-term demolition projects. It's great to know who provides demolition dumpsters Moscow PA customers can book whenever they need to.

We have you covered when you need a large dumpster to haul away some serious debris. Our services are ideal for big construction projects, large-scale clear outs, debris containments, and debris removal. We'll help you leave everything looking pristine following the chaos of a demo when you get your dumpsters Moscow PA delivered by us!

Why Choose Us for Your Dumpster Rental Moscow?
If you're searching for your next dumpster rental Moscow, you've found a reliable, affordable, efficient choice with our team of experts. We're the ones to choose if you're searching for the best dumpster rental prices in Moscow, PA. Our track record of helping countless neighbors and area businesses speaks for itself. In addition to offering fair prices for anyone looking for a cheap dumpster rental in Moscow PA, we also offer unbeatable service that encourages repeat customers time and time again.

Our options for dumpster rental Moscow are second to none. You never have to worry about the state of the dumpster that will be showing up at your property. We provide high-quality, heavy-duty dumpsters that represent the best of the best. That means you can get your job done without worrying about leaks or collapses. Our dumpsters are also user-friendly designs that ensure you'll be able to safely open and close the gates without struggle.

Your project is important to us. We're proud to say that our dumpster rentals West Side Moscow PA can help you get your job done the right way with fewer hassles. If it's time to book a dumpster rental, reach out to our team today to talk specs!
Moscow PA Dumpster Rental Sizes to Choose From
Not sure which size container best suits your needs? We're here to help. When you book your Moscow PA dumpster rental with AP Containers, you can select your ideal size in minutes. Our 20 yard dumpster rental is a versatile option that's ideal for estate cleanouts, remodels, renovations, construction projects, and much more. We are also one of the only Moscow PA dumpster rental companies to offer mattress pickup services. We accept any mattress size! So if you're responsible for student housing clean outs or deal with foreclosures, we've got your back.
How to Secure Dumpster Rentals Near Moscow PA from AP Containers
There's no time like the present and booking with us is as easy as clicking a button! If it's time to get serious about booking dumpster rentals near Moscow PA, get in touch with us today. Our team makes the process easy by allowing you to book online or over the phone.

While many of our customers love the self-service aspect of booking online, we want you to know that you never have to feel like you're handling the job on your own! Our team is standing by to help you choose the right option, select your dates, and arrange for your dumpster to be dropped off at the right location. Just call (570) 209-8600 to get it done with the best dumpster rentals near Moscow PA company around!

Rent a Dumpster Moscow and Other Areas
We take pride in keeping the Electric City free of trash and looking great! You're closer to the best Moscow roll off dumpster company than you think! It's easier than ever to rent dumpster Moscow, PA with our convenient services. We regularly work in the communities of Dickson City, Olyphant, La Plume, Carbondale, and other neighboring cities. Proudly serving all of Lackawanna County, AP Container delivers to the 18444 zip code.

When you're ready to rent a dumpster Moscow, get in touch with our amazing team. That goes for homes, commercial buildings, churches, stores, restaurants, office parks, schools, daycares, and so much more! Don't see your zip code or city on our list? Don't sweat it! Just reach out to our friendly customer service team to see if we're able to bring one of our best-in-class dumpsters to your address. We are available for you to rent a dumpster Moscow at your convenience on your schedule.
FAQs Regarding How to Rent a Roll Off Dumpster Moscow
If you're unsure how to rent a roll off dumpster Moscow or don't know which size you need for your project, contact us today or take a look at some of our helpful frequently asked questions below:

1) How do you rent a roll off dumpster Moscow homeowners can use for projects?

The easiest way is to use our convenient online booking tool to choose your container size, schedule your drop off and pick up, then check out, or you call us at (570) 209-8600 to tell us where you're located. We'll help you select the right dumpster for your needs!

2) How long can you rent a roll off dumpster Moscow?

When you book with us, we'll help you extend our two day and seven day rentals by as much as you need to get your project done. It's up to you and whatever amount of time you need.

3) Who can haul away trash in Moscow?

With our expert team, we don't just haul away your trash. We provide you with dumpster Moscow PA services that you can keep on the property for an easy cleaning or construction project. When you're done, we'll roll the dumpster away and take care of the trash!


Rent Durable Dumpster Rentals in Moscow Today!
Working with our wonderful community is the best part of our job. We're always honored when customers choose us for dumpster rentals in Moscow. We're even more honored when our satisfied customers feel compelled to share their positive experiences with the world. Our collection of 5-star online reviews showcases our commitment to being the top choice for dumpster rentals in Moscow year after year. Take a look at our reviews to see the AP Container difference!